Stay healthy, stay safe, keep your loved ones healthy and safe, too.
Good books will keep us connected, so be sure to share your favorites.
Enjoy reading together and alone, and alone together.
Peace,
Jocelyn Gebhardt
Past co-president, BVGT
January, 2021
Adult Nonfiction
Raising Gifted Children: A Practical Guide for Parents Facing Big Emotions and Big Potential
by Catherine Zakoian
published 2021
Raising Gifted Children is filled with insights, guidance, up-to-date research, and practical advice to help parents better understand the inner world of their gifted child so they can help them flourish at home, school, and beyond. You'll start by learning the fundamentals of giftedness, from its characteristics to its strengths and challenges. Then, discover how to put your child's social-emotional and mental wellbeing at the center of resolving issues with conflict, procrastination, and motivation. You'll find information on how to navigate schooling to help find the best fit for your child, as well as advice for encouraging them to develop meaningful friendships. It's a great read with some great advice from a great local gifted expert! Check it out.
Children's Books
Children's books are the best! They are short enough to fit into a very small space of time and bookshelf, but are often full of wisdom and a kindness that can fill your mind and heart. Some books just make you laugh or think – no small feat when life is feeling out of focus. Some children's books are overflowing with glorious cleverness, some have stunning illustrations – a feast for the eyes – while some books are filled with facts to fill your brain, and some defy easy descriptors. But you know all this! Enough of this goopy love letter to children's books. Let's get down to business.
I offer four books for your perusal: three new/new-ish, and one old friend my then first-grader introduced to our family. He found it in the Eisenhower Elementary School library and it has been a family favorite ever since. (Let's be clear: we got our own copy). 🙂
Let's start with the most recent!
Wood, Wire, Wings: Emma Lilian Todd Invents an Airplane
Written by Kirsten W. Larson
Illustrated by Tracy Subisak
Published in 2020
Young Lilian Todd was an inventor, born into a family of inventors, in the mid- 1800s. She was blessed with an inner curiosity and drive to figure things out. What a glorious childhood she must have had!
"Inventing wasn't women's work, so she did the next best thing–she got a job typing up plans for new machines at the U.S. Patent Office." Once she read about them, nothing stopped Lilian's determination to build a better airplane. She refused to be thwarted by failures. She considered failures challenges to be met!
I can't think of a better attitude for a successful life, can you?
This inspiring picture book is beautifully illustrated, the pictures matching the text to capture the reader's imagination.
Full disclosure- this book was written by a relative of a relative of my husband's that I've never met. (Darn it!)
Ages 6-10
Skunk and Badger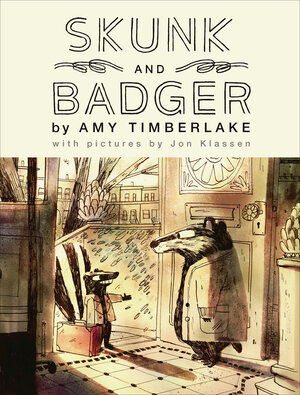 Written by Amy Timberlake
Illustrated by Jon Klassen
Published in 2020
Badger is a scientist. A serious rock scientist. Doing important rock work. Who is this frivolous Skunk at his front door? Well, technically not HIS front door. Badger is living in Aunt Lula's brownstone row house, and, as it turns out, Aunt Lula has invited Skunk to stay, so….
This absolutely fabulous children's novel is off and running. Where Badger is stodgy, Skunk is irrepressible. Badger works all the time, Skunk is off socializing with neighborhood chickens. Badger eats cereal from the box, Skunk creates delicious meals. While Skunk appreciates the moon, Badger has his ukulele to comfort him.
Conflict arises! Mean words might have been said! Skunk is gone!.
But wait- is that what Badger really wants?
And with great mastery, silly humor, and terrific illustrations, the conflict is resolved.
Do not miss this treasure of a book. Just as satisfying to read aloud as it is to read alone.
Find a copy and dive right in.
Ages 5 or 6 – 12 or so
The Pigeon HAS to Go to School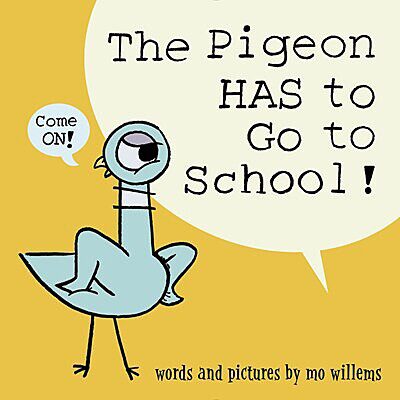 Written and Illustrated by Mo Willems
Published in 2019
(Or, as it is printed in the book itself, "Published near a very lovely bagel shop on the Upper West side. My Uncle Herb goes there all the time.")
Now- If that silliness is on the page usually reserved for dry publishing information, you can just imagine that it gets sillier in the text itself. Yes- The famous (infamous?) Pigeon who wanted to drive the bus is back again. In this book, Pigeon is leery of starting school- he isn't sure it's for him. Why does the alphabet have to have so many letters? What if the teacher doesn't like pigeons?
Happily, by the end of the book he has completely capitulated and is thrilled by the idea of going to school. If you have read the other Pigeon books, the ending will make you laugh out loud. You'll laugh regardless.
Perfect for littles who might be having second thoughts about the scary idea of starting school. Great talking points! (And did I mention it's very silly?)
Aimed at ages 3-6, but flexible!
Harvey Potter's Balloon Farm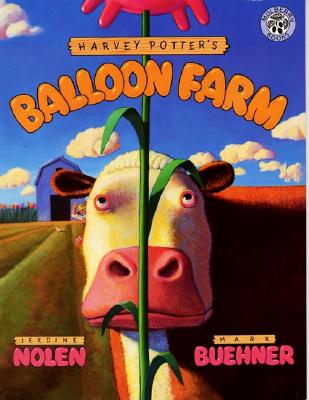 Written by Jerdine Nolen
Illustrated by Mark Buehner
Published in 1989, 1994
One of our family's favorites, from 'way back. Harvey Potter was a farmer in a farming country. That might not sound strange, but what is unusual is what Harvey Potter grows. He grows balloons. Big ones, small ones, purple, green, blue, black and red ones. Silly ones and scary ones. The young neighbor girl who is narrating this story is enchanted with the balloons, and makes friends with Harvey Potter. One neighbor is not so happy. Wheezle Mayfield called the Government to complain. You'd better read this to find out what happens! And the surprise ending is a delight!!!
The illustrations are a perfect match for this entertaining story. Bright, and colorful. (I swear one balloon is the exact shape of Richard Nixon's head.) The balloon fields offer up surprises every time I read the book (starting with the cover- and then the title page, just as an example).