Not surprisingly, more terrific children's books are being published all the time. Here are a few that caught my eye. Enjoy!
Jocelyn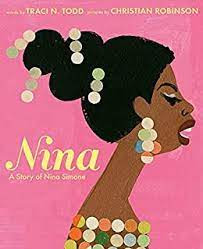 Nina
Written by Traci N. Todd
Illustrations by Christian Robinson
2021
The famous musician-pianist-singer Nina Simone was born Eunice Kathleen Waymon in Tryon, North Carolina in 1933. This picture book biography tells the story of how Eunice became Nina, and how she came to join the Civil Rights Movement while stunning audiences both here and abroad with her talent. Very well written, I got caught up in Nina's life story and really enjoyed the illustrations. A great book to open up discussions about hard- to- tackle subjects like race, equality and fairness. So well done!


Bright Star
Written and illustrated by Yuyi Morales
2021
"Child, you are awake!" is how it starts. Weaving Spanish words and phrases into the narration, with illustrations of animals and people, the desert scenes unfold. Themes of speaking out, comfort and affirmation come through the text loud and clear, ending with "You are a bright star inside our hearts". Wonderful, wonderful!!!!!!!!!!!!!!
I just loved this book.


Everybody in the Red Brick Building
Written by Anne Wynter
Illustrated by Oge Mora
2021
This enchanting picture book starts out with everyone asleep. Then the baby cries, waking up some neighbors. Then THEY wake up other neighbors. Fabulous collage illustrations complement the text of a sweet and not totally predictable story of a night in a red brick apartment building. All parents will be able to relate on one level or another. And the kids will love the noises! Terrific!


Kindness Grows
Written and illustrated by Britta Teckentrup
Originally Published in Great Britain 2019
Published in America 2020
This cleverly constructed book about friendship and kindness will have you turning the pages to see how the story unfolds. Talking about words and their consequences will resonate with youngsters and adults alike. The illustrations are worth detailed inspection- and you might see something new each time you read it. Two thumbs up!


A House
Written and illustrated by Kevin Henkes
2021
Kevin Henkes has written many wonderful books over the years, and this one is a great addition to his canon. This is a very simple book. The text often addresses the children directly. Young audience members will eagerly answer the questions. This is a perfect going- to- bed book.
No shocks! No surprises! No conflict! Calming and comforting, I predict it will become a family favorite of the youngest crowd pretty quickly. Sweet!